Benefits of Online Learning: The Key to Balancing Work and Study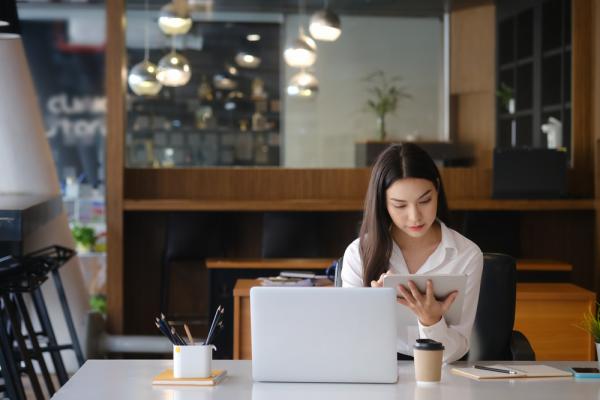 Flexibility, opportunity, and affordability are just a few of the benefits of online learning. And achieving a balance has never been easier for those planning on studying while working full-time. Thanks to the latest design and delivery of online courses, it's possible to upskill and gain qualifications without putting your career on hold.
The online education experience is evolving, and students have much to discover when they begin.
We spoke to the Associate Director of Student Success for Keypath Education, Michelle Chapman, about the benefits of online study. She shares her insights on how it differs from on-campus study and what students can do to enhance the experience.
Online study: Who should consider it?
Contemplating a career change? Don't know what to do with your life? Looking to upskill in your current profession or re-enter the workforce altogether? According to Michelle, there are many reasons why people study online.
"Many people are looking for that next level of study, like postgraduate and master's students. Others are career climbers wanting a promotion or a new role. Sometimes, people are looking to change jobs and industries altogether."
What makes online learning so appealing is accessibility. And Michelle should know. "In August last year, when I was promoted into my current role, I also started studying a Graduate Certificate of Business Administration with Victoria University (VU) Online," she says. 
"It's been an interesting time managing both. But I'm a testament that juggling a busy job and study can be done, and you can do it."
Michelle's job keeps her busy, so she most appreciates that she can access her course when it suits her. "When I finish work, I might want to have a two-hour gap from my computer screen," she says. "I'll make dinner, go for a walk, and come back and study."
Accessibility and flexibility are just a couple of the advantages of online learning. Let's take a look at some more.
What are the benefits of online learning?
There are many good reasons why someone might want to study online rather than on campus or in a classroom setting.
Flexibility
Online education is flexible and widely regarded as the best way to study while working full-time. You can work your study around other commitments, so there's no need to sacrifice anything in your developmental journey. 
"A lot of the classes, seminars, and webinars are conducted after work hours online, so they really are catering to the working professional for the most part," says Michelle. "The great thing is that everything's recorded, so you can always go back and revisit if a time doesn't suit. It's a real advantage to have access at your fingertips."
Opportunity
Studying online means students worldwide gain access to the best online degrees at the click of a mouse. As more and more universities open up their online offering, students are enjoying access to the same quality education online as they do on campus. 
Better still, the delivery is tailored to suit the online environment, which means no matter where you are in the world, you can access quality education. It's one of the drivers of what we do at Keypath: empowering students with high-quality, industry-relevant degrees to tackle the issues our world will face now and into the future.
Affordability
The cost of education can vary greatly, depending on what you study and who you study with. While online courses can be less expensive than on-campus degrees, the real cost advantage of studying from home comes from not having to attend classes. You don't have to move to the town where your university is. This is particularly beneficial for students in rural and remote regions that no longer have to relocate, leaving their families and communities, in order to study. The cost of transport, buying food on campus, getting to and from classes? Not an issue when you learn online and there's no need to attend lectures in person.
The evolution of online learning
The notion of online learning being the 'lesser than' or low-quality option is changing. Today, many innovations make it easy to learn how to study while working full-time or part-time and with a quality education that rivals — and sometimes surpasses — in-person learning.
Online learning has evolved. Programs such as those created by Keypath have been designed to be flexible, engaging, and interactive, and built to offer a student experience that not only matches but surpasses the on-campus experience.
As well as the flexibility, Michelle loves the variety of her program. "There are lots of videos and interactive content on the online platform, whereas the old school way of learning was through a textbook. There's still a lot of reading when you study online, but it's that combination of the videos and things like that that usually spark your interest because you're hearing a professional talk to an audience."
With busy careers, Michelle and students like her could never study on campus. "If you are still in your career, you don't want to put it on hold, so online is a much better option."
And online doesn't mean out of touch. Michelle has regular contact with her online facilitators. "It's just a chance to have a good chat and laugh so you can build a really good connection with them, and they're the ones that are going to help you through the course as well. Using social media to get in contact with your peers in your study groups can be a really useful tool."
 Michelle says it's still possible to create friendships in that online environment.
Tips for effective online learning
Understanding these points of difference makes it easier to take advantage of everything online learning has to offer. Check out these tips and insights from Michelle to ensure you're getting the most out of online education.
Master time management.

Learn the basics of time management, and use it to your advantage. You're now responsible for juggling work and study, so create a reasonable schedule that you'll actually stick to.

Bite-sized pieces.

Looking at an entire course can be overwhelming. Instead, break up the learning into bite-sized pieces so it's easier to consume. Give yourself a plan for meeting smaller milestones. "You might have, say, five particular tasks to get done in a particular week. And so you might invest one hour each night to getting through the weekly material and then you've got the weekends to focus on the actual assessment."  

Understand your assessments early on.

Spend time at the start of the unit looking at the required assessments. And then you can work back. Michelle says knowing what your assessments entail will help you understand what you're aiming for as you work through the unit.

Connection matters.

Try to connect with students and facilitators. "Create friendships, speak up on classroom sessions, and use social media to connect with others," explains Michelle. "Once you graduate, you'll get the chance to meet everyone face to face and continue these connections."

Don't be afraid to ask for help.

Student success advisors, course facilitators, and other students are all there to offer support through the learning journey. Use them. Remember: there's no such thing as a silly question. 

Find a study path that suits you.

Choose a provider and program that suits your professional goals and your availability. Overcommitting to something you don't have the time or mental space for will make it harder to achieve.
How Keypath supports its partners and students
To enable everyone to recognize the benefits of online learning, Keypath supports its university partners and their students. These are just a few ways Keypath can help you during your online learning journey.
Ongoing support
In addition to the academic support that online facilitators offer, Keypath provides non-academic support for students. And we're there from the very beginning.
"Our course advisor team is there to help potential students decide which university or program is best for them," says Michelle. "Once a student has enrolled in a program, a student success advisor will be their one-stop shop providing support as they study."
Enhancing the student experience
Keypath works with its university partners to constantly incorporate feedback and update course design and delivery in its online degrees. "Unlike traditional classroom learning," says Michelle, "having the adaptability to update course content and ensure it's relevant is a huge benefit we offer."
The students of our university partners help us shape the courses, enhancing the student experience. This input from Keypath and students makes it easier to master how to study effectively while working full-time.
A unique perspective
We're committed to ensuring our students do their best and see them as more than just enrolment numbers.
"Keypath invests heavily in retention and ensuring the students of our university partners are okay," Michelle says. "We can determine the point where someone may need extra support and help them get back on track."
The online learning process can seem more manageable when you have this level of encouragement.
Embracing the benefits of online study with Keypath
Keypath's partners and students receive our support every step of the way, ensuring everyone can master the challenges of online study. Learning how to study while working takes some practice for students new to the process, but the benefits make it worthwhile.