Are Online Degrees Respected by Employers? A Shift in Perception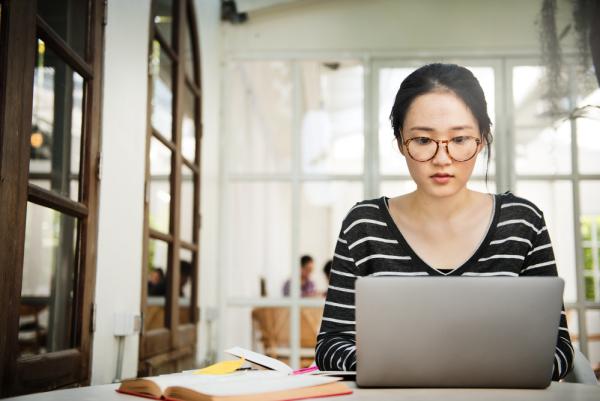 The digital revolution has moved many parts of our lives online, including how we learn. With online education more accessible than ever, more people have the tools to upskill and develop professionally when and where it suits them.
But are online degrees respected by employers? Thanks to improvements in design and delivery, the answer is a resounding 'yes'. And it's not only employers who have shifted their perceptions.
This article explores how the perceptions of studying online have changed and how the programs offered today make it a more appealing option for many students. Plus, we speak with Keypath's Associate Director of Product, Aimee Mather, about the quality of online education causing the shift.
What's the current perception of online study?
In the past, there was a perception that online learning qualifications were not as credible as on-campus degrees. Today, that perception has changed. Online programs are now earning a reputation as a flexible and quality mode of education.
"In the early days, there may have been a lack of awareness about online learning that drove this perception," Aimee says. "Now, the awareness of the benefits of online study is higher." So, are online universities worth it? Today's certainly are.
How students view online learning
For students, concerns about the availability of teaching staff or a lack of connection with others are at the forefront. However, technology has provided a solution. Students can access discussion forums, participate in group assessments and activities, and directly communicate with tutors and facilitators – all online.
Additionally, the accessibility of universities and programs is one of the benefits of online learning spurring its popularity. Students can now access the best online postgraduate programs and courses without changing towns or leaving their homes.
How employers view online learning
How does online learning look on a resume? And are online degrees respected by employers? They are now.
Many organizations and industries may view an employee undertaking online study as a benefit. Reasons include:
Employees can schedule online study around their work.

Employees bring new skills and knowledge to work.

Employees demonstrate drive with self-initiated learning.

Coursework is relevant and up-to-date due to online delivery.
How teachers view online learning
Many teaching staff are also changing their perceptions of online education and embracing the new method. Even if they're new to the process, facilitators and educators working with Keypath receive the tools and support to effectively design and deliver online content. 
Our Instructional Design team works closely with faculty and staff to design the best online courses. We spend months developing programs and then assisting faculty to deliver those programs to students. We also incorporate student feedback, data, and analytics to continually improve and update current programs.
How society views online learning
The general community appears to have shifted its views as it has gained a broader understanding of online learning. "The gap has certainly narrowed post-Covid," Aimee says. "Most people have either had their own online learning experience or know someone who has studied online." 
Many factors have contributed to this positive change, including the availability of online programs and the institutions that offer them, and the improving quality of online programs. Covid also forced most of us to move more of our lives online. This has led to a greater acceptance of online activities, including studying at a postgraduate level.
What can you study online today?
People considering online study are often surprised to learn the scope of programs available and the institutions that deliver them. This extensive selection has undoubtedly helped improve today's online education perception.
Keypath partners with some of Australia's – and the world's – most respected institutions, including Southern Cross, Deakin, and RMIT universities, plus Melbourne Business School. In North America, globally ranked Baylor University has been a Keypath partner since 2018. Working alongside Keypath, they have successfully adapted their programs and offerings to the online environment.
Keypath is also actively working to offer programs that in the past have been challenging to deliver online (such as nursing and physiotherapy).
"For example, an employer might view subjects related to technology, business, accountancy, and finance as acceptable online studies. However, acceptance is still growing for alternative teaching methods in courses that have traditionally included a large element of practical learning," Aimee says.
The future looks promising, however. With emerging technologies enabling subjects like nursing to be delivered successfully online through many Australian universities, the barriers that once existed to some areas of study are gradually breaking down.
How Keypath is changing online study
At Keypath, we work closely alongside our partners to ensure a better online learning experience for staff and students.
Most importantly, Keypath has a skilled and dedicated Instructional Design team to facilitate the transition.
"Our designers are experts in translating academic content into an online environment," Aimee says. "With contemporary and sophisticated approaches, they create interactive and engaging ways to deliver content and keep students involved."
How do you choose an online education provider?
The numerous benefits of online learning make it a smart option for many students. But choosing the right study path and provider is essential to receiving these benefits. 
So, how do you know you're studying a program that will gain the respect of current and future employers? Are online degrees legitimate? And how can you tell which ones are rated highly? Aimee shares some advice for prospective students to ensure they pick the right online program. 
Assess the university's legitimacy.

Do you know the institution? Is it a recognizable brand? "If you can tick that off, you can assume that everything the university offers is legitimate," Aimee says. She also advises looking for related accreditations, such as

AACSB

for business programs, or other recognized associations.

Compare providers.

"Compare three or four providers closely before deciding," Aimee suggests. "Read student testimonials and where the course has taken them once completed." This important decision needs an in-depth comparison to determine the right one, so take your time.

Consider your goals.

"Look at the course content and units," Aimee recommends. "How much content is there in the specific areas you want to upskill? Do you have niche interests, and can you choose electives in those subjects? What are the outcomes and themes of the program, and do they match your goals?" When weighing up an online program, ask all these questions to ensure the best fit.
With Keypath's support from the initial stages of enrollment, making the right decision is easy. And we provide ongoing, non-academic support for students throughout their learning journey to ensure they're on track.
Keypath's mission to transform online education
Are online degrees respected by employers and potential students? Keypath works with its university partners to ensure they are. By improving design and delivery, Keypath is improving perceptions of career-relevant online learning.