The Future of EdTech and Instructional Design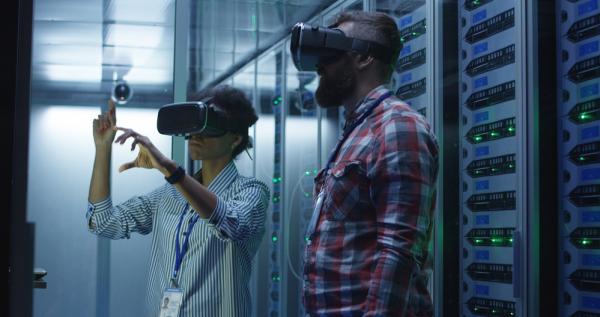 3 EdTech trends that will change the future of higher education
The EdTech industry is changing the future of higher education by allowing people to study whatever, wherever, and whenever they want. Physical proximity to a university campus is no longer an issue, nor is working full-time or having personal commitments that would usually get in the way of study.
With technology changing at an extraordinary rate, some exciting new EdTech trends are emerging. Instructional designers are embracing artificial intelligence, virtual reality, augmented reality, and data analytics to improve how we learn online.
At Keypath Education, we're thrilled to be part of such a dynamic industry. Backed by a dedicated team of learning designers, we're always looking for new ways to innovate and change online education for good.
The current state of the EdTech sector
"EdTech is an industry at the forefront of current trends in teaching and learning," says Eamon Vale, Director of Learning Design for Australia and Asia-Pacific at Keypath. "It is also a major driver for the design ideas and technologies in the post-COVID workplace. For these reasons, working in EdTech has never been more interesting or impactful."
We can attribute the success of the EdTech sector to several factors, including:
more companies wanting to upskill their teams

individuals wanting to upskill or retrain

how quickly technology has changed in the 21st century

internet access becoming more affordable and widespread

online learning technologies becoming more advanced
As the industry grows, more universities are introducing online learning, and more students are enrolling.
While the sector has been growing steadily since 2012, it took off in 2020. COVID-19 forced universities worldwide to close their physical campuses, and a record number of students enrolled online. This contributed to the industry growing a massive 92 percent since 2020, versus 36 percent between 2012 and 2019.
Working in the industry, Eamon has seen the effect of Ed Tech trends firsthand.
"10 years ago, you would have struggled to find an online MBA program in Australia. One or two universities specialized in offering what was then called 'distance education'. Now, in the last two to three years, more institutions are offering online degree programs in all disciplines and at all graduate levels."
This creates opportunities for students and universities alike. In fact, McKinsey & Company reports an incredible US$20.8 billion was invested in the sector in 2021.
The EdTech trends that are changing online learning
We know that technology has been a big driver for the growth of EdTech and this isn't set to slow down. Technology is quickly becoming a central part of education design, particularly for online learning.
For the best chance at success, providers need to stay on top of three EdTech trends that will shape the future of technology in education.
Virtual reality and augmented reality
"AR and VR offers will continue to grow and offer students more immersive learning opportunities," says Eamon.
This will remove barriers to online learning for fields such as healthcare, which often require students to be on campus to complete practical tasks. VR and AR will allow students to complete some of these exercises in an immersive and low-risk environment.
Data analytics
Historically, it has been difficult for educators to accurately understand how students learn and engage with the course material. Online learning opens up new doors in this area, explains Eamon.
"As learning moves into the digital space, the accumulated data provides educators with new tools for understanding learner behavior. It also allows them to evaluate the effectiveness of their learning programs."
When combined with instructional design principles, data analytics can go a long way in improving education design. 
Artificial intelligence
"AI is the next frontier," says Eamon. "It has the potential to answer basic student questions, provide personalized feedback, and even grade simple assessment activities. It will never replace the role of the teacher, of course, but could become a valuable teacher's aide." 
While AI has a long way to go before providers can use it in this way, the possibilities make it an exciting EdTech trend to keep an eye on. 
How Keypath is embracing EdTech trends
At Keypath, we're excited to be part of this growing industry. Having transformed from a startup to a global company, our Keypathers remain grounded and passionate about the education industry. We are lucky enough to have a team committed to embracing diversity in the workplace who genuinely love learning and producing quality work. This drives us to continually improve, innovate and help our partners thrive in a changing world. 
Our Learning Design team leads the way
Our Learning Design team is constantly staying on top of EdTech trends to deliver the best education design possible to our partners. Eamon describes this team as "incubators for ideas and innovation", which he attributes to the team's diversity of roles and functions.
At Keypath, our Learning Design team consists of:
Learning designers

Associate learning designers

Lead learning designers

Interactive learning designers

Web developers

Educational technologists

supporting operational and managerial roles
While our Keypathers all have various backgrounds (coming from STEM, healthcare, the arts, academia, and more), one thing that unites us is a love of education. Knowing the education sector inside and out is essential to providing the support our partners need to create successful and supportive online learning experiences for their students.
Embracing a commitment to learning
Given the EdTech industry is evolving so quickly, we believe it's vital to have team members who commit themselves to learning and growing along with the sector. While our Keypathers are already highly skilled when we hire them, we're also committed to professional development to help them feel fulfilled.
Ultimately, we believe that a happy team leads to outstanding employee performance, thereby delivering our partners the best possible results. Innovation, creativity, and quality work are only possible in a supportive and encouraging environment, which is something we've maintained since our days as an EdTech startup.
Future employment opportunities with Keypath
Keypath is growing quickly along with the EdTech sector, and we're often looking for new talent ready to advance their instructional design careers.
In particular, we're looking for future Keypathers who have:
a background in the education industry

postgraduate qualifications

a love of technology

project management skills

stakeholder management skills

the drive to grow and learn within a supportive EdTech solution provider
Once you become a part of the Keypath team, there are opportunities to develop your career further. We want to ensure that all our Keypathers are in roles that align with not just their skills and experience but their passions. This means there may be opportunities to work across departments and move into roles that satisfy you.
Dive into the world of EdTech with Keypath
With the EdTech sector going through such an exciting period of growth, now is a great time to step into the world of online learning.
If you're a university and want to discover how partnering with Keypath can help you create exceptional learning experiences for your students, read more about us and get in touch with one of our friendly Keypathers.
If you're looking for careers in instructional design, head to our careers page to learn more about what we do and browse our current offerings.