How Transformation Can Help Companies Embrace Diversity in the Workplace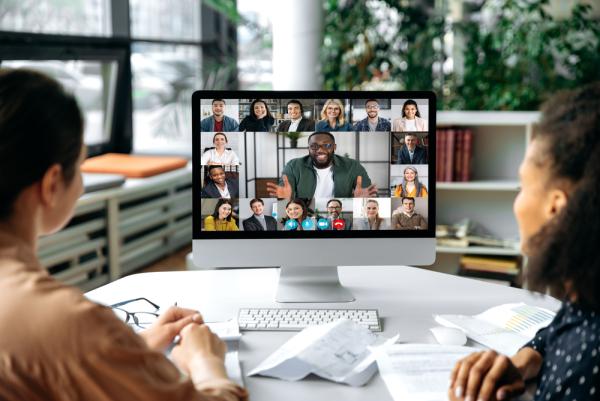 Building a diverse, inclusive and equitable workplace needs to be a crucial part of every talent acquisition strategy. It's no longer something that is simply 'nice to have'.
The value of diversity in organizations has been proven over and over again. While the workplace in general has become more diverse, there's still ample opportunity to increase diversity, inclusiveness, and equitability.
The good news is that modern workplace transformation drivers such as technology and remote and hybrid working can be used to increase diversity, equity, and inclusion (also known as DEI). 
Understanding workplace diversity, equity, and inclusion (DEI)
Identifying the differences between diversity, equity and inclusion is important. The three concepts are related, but understanding how they're different is key to making them happen.
Diversity encompasses all of our differences, from demographic characteristics to our experiences, perspectives, views, cultures, abilities, and identities.
Harvard University defines equity as "fair treatment for all while striving to identify and eliminate inequities and barriers." It is not the same as equality.
Equity takes into account each individual's uniqueness to give them the resources they need to succeed. Unlike equality, equity acknowledges that people's circumstances are different and that not everyone has access to the same opportunities.
And then there's inclusion. An inclusive workplace is where everyone feels like they belong, feels like they can participate, and knows that their uniqueness is valued. Diversity can't thrive without inclusion.
Each element of DEI needs to be addressed in order for everyone to reap the benefits, such as:
increased revenue and profits

enhanced competitiveness 

increased innovation and resilience

improved staff retention rates

superior decision-making
For increased revenue and profits, research suggests that one of the benefits of having more women in leadership positions is profitability improvement driven by a more diversified set of C-suite skills. Similarly, another study on the benefits of LGBTQA+ people in the workplace found that "firms with known LGBTQA+ executives outperform their counterparts."
Is workplace diversity achievable?
Because overall progress in workplace DEI has been slow, some have questioned if it is actually achievable and whether it's just another management buzzword. The fact is that many people are now choosing to work with companies that implement DEI practices, including team members, consumers, clients, and investors.
Tools for managing diversity in the workplace
Researchers at the University of Massachusetts Amherst have identified five key tools that companies can use to successfully embrace diversity in the workplace:
Measure diversity and analyze the data

. To improve, you have to measure effectiveness. It can also help direct areas of particular focus for your DEI strategy. For example, benchmarking your DEI efforts compared to competitors can help you focus on specific areas of improvement.


 

Rethink traditional complaint and dispute-resolution systems.

Research indicates that in almost half of cases, people who complain about discrimination or harassment at work face retaliation. As such, organizations need to identify different ways they can support employees making complaints instead of the traditional grievance procedures.


 

Evaluate tech for bias

. AI-assisted recruitment can save valuable time, but it can also introduce bias into the process. The researchers recommend that companies test tech for bias before use and do ongoing monitoring and evaluation.


 

Improve visibility of role models.

To avoid stereotyping, the researchers suggest increasing the visibility of counter-stereotypical role models who are part of underrepresented groups of people in the workplace.


 

Involve managers in DEI strategy development

. Involving managers in the design and development of DEI strategy enhances team member commitment to the strategy and streamlines implementation.
The role of workplace transformation in DEI strategies
Remote and hybrid working environments are driving workplace transformation alongside technological advancements such as cloud computing, artificial intelligence, robotics, and automation.
You can use these drivers of change to increase workplace DEI.
Remote work enhances DEI by increasing the hiring pool available for employers and providing more flexibility for team members. For example, people with disabilities may find a long commute to the office difficult compared to working remotely.
According to a recent report by RedThread and Mercer, a professional services firm, showed that technology can enhance workplace DEI across four main areas:
Talent acquisition

. Companies can use tech solutions like

Wonderkind

to target job ads to underrepresented groups. Other technologies can be used to anonymize candidate data on resumes and applications to help reduce unconscious bias.


 

Development and advancement.

Virtual reality training can be used to immerse team members in the experience of others to help build understanding and empathy.




 

Engagement and retention.

Using employee feedback software, companies can add questions directly relevant to DEI. Employees can anonymously submit complaints to software platforms to avoid retaliation after making complaints. Digital ombudsperson platforms also offer independent support and complaint resolution.


 

Analytics and insights

. Technology can be used to monitor DEI progress, perform pay equity analysis, identify how inclusive company networks are, and make DEI strategy suggestions.
How Keypath is embracing diversity, equity, and inclusion in the workplace
At Keypath, our global DEI framework is based on three pillars:
People.

We are committed to not only growing the diversity of our people but ensuring each team member is valued for their diversity. One of the ways we do this is through our recruitment and selection process, which is designed to guard against conscious and unconscious bias.
We also run several initiatives to strengthen DEI education and awareness:
We offer global education sessions and resources about the history and culture of Indigenous peoples. This is one way for organizations to support indigenous diversity in the workplace.

We facilitate the Global Keypath Pride Panel, which comprises team members who identify as part of the LGBTQA+ community. The panel members were encouraged and supported to share their life experiences.

We promote the International Day of People with Disabilities to help increase disability awareness in the workplace. To celebrate the day this past year, Keypath's Mental Health and Disability Community Leaders sat down with Keypathers to hear their stories about living with a disability, as well as highlight the work Keypath is doing to make our content more accessible and inclusive for our university partners' students.
Identity

. We work to ensure our identity reflects our people. One example of this in action is our Global Diversity and Inclusion Standing Committee (DISC). As well as championing DEI objectives, committee members make recommendations to the executive leadership team.


 

Actions

. We believe in taking meaningful DEI action. It's why our DEI Community Leaders are continually hosting workshops to help team members learn and feel supported working in a diverse workplace.
For Keypath team members, our commitment to DEI is important. Tina Banerjee, Keypath Community Leader, Multiculturalism, shares "As a DEI leader at Keypath, I am proud that the company has made great strides in this space and we continue to make meaningful efforts for our communities." 
Myles Lawter, Keypath Community Leader, LGBTIQA+ agrees. 
"Being a DEI Community Leader is important to me because as a gay transgender man I have the privilege of educating others about my communities. There are queer, trans people all over the world, and I hope that the education and time I spend working in the DEI space and educating others helps make an impact on queer and trans people in education across the world."
DEI is not just a policy, it's who we are
Keypath's diverse global leadership team represents years of experience embracing different backgrounds and cultures. This enables Keypath to create an environment that fosters innovation, collaboration, and inclusivity.  
The findings from its 2021 Gallup Survey found that:
Keypathers feel that they can trust the company to treat all employees equally and that they are valued for their diversity; average score of 4.48 out of 5

Keypathers feel that the company provides an environment for the free and open expression of ideas, opinions, and beliefs; average score of 4.45 out of 5

Keypathers feel that their manager is prepared to manage in a diverse workforce;  average score of 4.53 out of 5.
Keypath is actively looking for ways to support a culture where inclusion is at the forefront as there are many benefits to this approach including:
Diversity in ideation, perspective, creativity, and initiative

An environment where employees feel welcome and safe

Higher engagement and retention

Better relatability with our diverse students and partners

Transparency around commitments in external-facing communications and recruitment, encouraging more people of diverse backgrounds to apply for jobs with us.
At Keypath, we believe that our differences are our greatest strength.
Get in touch to find out more about Keypath Education job opportunities, locally and globally.