Work With Purpose for a Future-Focused Organization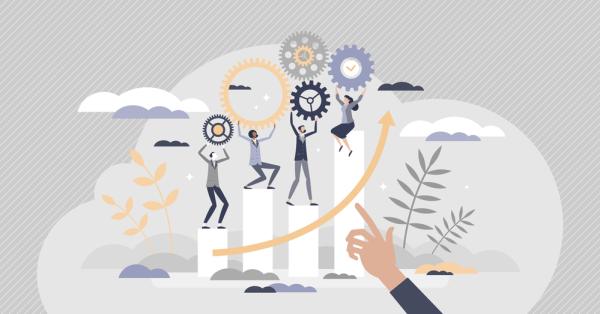 Keypath Education's commitment to greatness isn't just good news for its university partners and their students — it's also fantastic for Keypath employees.
The leading global EdTech company assists its university partners to deliver top-quality online education courses and programs. And it's looking for enthusiastic professionals to join its worldwide team.
So, how does Keypath measure employee performance? What's it like to work for Keypath? And is it right for you? If you're passionate, curious, and ready to be part of the growth of this innovative organization, you could be the perfect fit.
From employee performance to work with value
Globalization has changed the way many of us work. Hybrid models, work-from-home arrangements, and flexible hours are becoming the norm in many industries. Employers are having to work hard to attract and retain employees and reward their efforts.
Managers and business leaders have long recognized the importance of employee performance to the success of an organization. Look online and you'll find plenty of employee performance management tools, charts, and checklists to help leaders identify organizational goals and measure employee performance against those goals.
Key performance indicators for employees — such as meeting targets or sticking to budgets — are used to measure the performance of individual members of the team. But for organizations to thrive, these measures alone are no longer enough.
How to make staff feel valued
Truly innovative workplaces are going beyond KPIs and traditional performance management tools to ensure their employees feel seen, valued, and rewarded. 
"As an employee, you want to know that you're doing a good job," says Adriana Burns, Keypath Education's Global VP of Reward. "You want to know your efforts are being recognized and are making a difference. And that's at the core of what we're trying to achieve. It is making sure our employees know when they are doing a great job and that they're having an impact."
The employee/employer relationship is changing — employees are now being supported to thrive, not just get on with the job.
So, how do you recognize employee performance? Adriana says Keypath has formal processes where they assess employee performance against "our company core values of collaboration, commitment, lifelong learning, and innovation". 
But the company goes further, with continual conversations between managers and employees about how the employees performed. "We expect that managers are having those conversations on a frequent basis to help their team members and their colleagues continually improve."
How Keypath is leading the way
Keypath Education partners with universities around the world to help them deliver a range of courses and enhance their student experience. They help develop their online degrees to give graduates better real-world skills and qualifications. In this way, Keypath is committed to doing its part to tackle the social and economic challenges of the future. 
Keypath's mission is to help educators offer the best courses to enhance outcomes for their students. But Keypath's commitment to education isn't just about the students — it extends to all their people and all their teams, their 'Keypathers'.
Through building a culture of collaborating,  listening to employees, and embracing inclusivity, Keypath makes every team member feel valued and seen.
They do this because they know what it takes to attract and retain top talent. And they do this by creating jobs with purpose, having an accessible leadership team, and fostering a caring community.
Keypath knows how to make staff feel valued. Let's take a look at what else they can do.
Engages employees in growth
Keypath is growing, and its aim is to recruit skilled workers who want to contribute to that growth. Adriana says they want to attract new Keypathers who embody the organization's core values.
"We want people who are nimble and able to grow with the business," she says. "They need to be comfortable with building the plane as we're flying. Keypath Education is a place where you can make a true difference."
Offers a flexible work environment
"We just try to meet people where they are," says Robin. So when an employee needs a more flexible schedule, they can be accommodated. When they want to work from home or in an office, they have options. "One of the best ways we retain people is to listen to them."
Attracts and retains employees
"We're looking for really smart, passionate people who want to make a difference in the world," says Adriana.
"Honestly, we just love ambition, and we love people that are super dedicated to building a compassionate and caring workforce where we all have each other's back," adds Robin. "We do independent work and we contribute independently in a lot of ways, but we are all in this together."
Working for a company with purpose
Keypathers work in a range of teams. They develop online courses or work in finance, manage teams, advise students, help with web development or engage in marketing activities. Keypath is actively recruiting. But what is it really like to work for a company with these values? 
Robin says new Keypathers need to start their Keypath Education job ready to collaborate and contribute to the goals of the business. 
"You have your typical roles, and everyone has their KPIs or goals within those roles. Your performance is based on how you contribute to the overall mission of what we're doing as well as how you perform within the expectations and goals of your role.
But while you're here, we also want to make sure you're not just doing well within your role but that we're working to help you perform and reach your personal career goals."
Get ready to engage with Keypath
Also important at Keypath is employee engagement, which, says Robin, is different from performance. Performance is the job; engagement is "how you are when you're doing it". 
"Engagement is how you show up every day and how you present yourself. Are you engaged in the work that we're doing? Are you engaged in conversations with your internal and external stakeholders when you're here? Are you representative of the culture that we value and inspire to create? But also, are we doing enough to make sure that you're engaged?"
Keypath itself is growing and still learning. "We acknowledge that we're not perfect," says Robin. "It's important that we continue to evolve. And while we don't have it all figured out, we are dedicated to making it happen."
Want to work for Keypath?
There's no doubt workplaces are changing, and Keypath is a global employer leading that change. If you're a skilled individual who'd like to put your talents to good use while growing to better yourself and others, Keypath could be for you. With its global reach, clear purpose, and expanding opportunities, it's a great time to join Keypath.
Keypath is now recruiting. Discover more about Keypath Education jobs and find out if you have what it takes to become a Keypather today.