How to Fix the Global Nurse and Healthcare Worker Shortages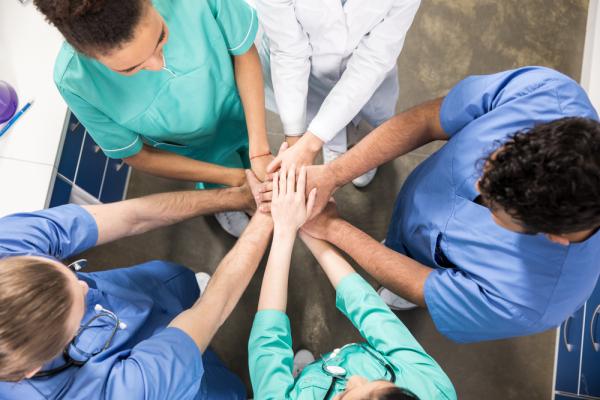 Global healthcare worker shortages: What can be done?
The state of the global healthcare industry is alarming, with the severe shortages in healthcare workers expected to continue for years to come. In fact, the World Health Organization estimates the industry will experience a massive shortfall of 18 million healthcare workers by 2030.
This shortage was exacerbated by the COVID-19 pandemic, which revealed startling gaps in the availability of healthcare workers around the world. However, the pandemic isn't solely to blame for the situation. Even before it began, the World Economic Forum highlighted drastic healthcare worker shortages in its 2020 Global Risks Report. Multiple earlier studies going back almost a decade also heralded a looming shortage worldwide.
Workforce shortages are impacting health care across the globe
Globally, the healthcare industry needs more workers. There are not enough doctors, nurses or other health workers to meet current demand, resulting in long wait times and patients missing out on essential care.
Key shortages include:
Nurses

.

The United Nations' World Population Ageing Report

 predicts the number of people aged 65 or over will more than double by 2050, from 962 million to 2.1 billion. A global aging population

means greater demand for healthcare services and nurses.
Exacerbating the problem is an aging nursing workforce. More than half of registered nurses in the US are over 50; by 2025, it's estimated that two-thirds of this demographic will be eligible for retirement. With the aging of the nursing workforce, 17% of nurses globally are expected to retire within the next 10 years.
In light of these facts, it means we need a new generation of nurses to meet the demand, as well as to replace the current nursing workforce.
Nurses are the healthcare system's backbone. When there aren't enough nurses to provide care, patient outcomes are directly impacted.
Pharmacists.

As a vital component of the global healthcare workforce, pharmacists deliver medication management, patient counseling, and education. They also support interdisciplinary collaboration to deliver high-quality care. Many countries around the world are

increasing the number of pharmacists graduating

every year in order to meet the demands and fill vacancies. There are currently 914 pharmacy schools in the world. Variations in pharmacy workforces typically reflect national- and regional-level economic indicators, with implications for unequal access to medicines and medical experts worldwide. 
There are shortages of pharmacists across the United States, predominantly in rural areas. The situation is similar in Australia, where there have been warnings about pharmacist numbers potentially becoming inadequate to support the needs of regional and remote areas by 2027, exacerbating the country-city healthcare divide.
Pharmacist shortages lead to reduced patient care, poor patient outcomes, and increased healthcare costs. 
Healthcare workers.

A wide range of allied health professionals, like o

ccupational therapy and physical therapy

, are responsible for direct patient care. They also play a crucial role in the quality and availability of essential services.
Without enough healthcare workers, patient outcomes deteriorate, leading to longer wait times and higher costs. Too few workers can also result in greater burnout rates and staff turnover.
Countries around the world are facing the incredible challenge of educating and recruiting a new healthcare workforce. These people need to be trained appropriately and then swiftly oriented into the workforce to alleviate the current shortage and provide relief for burnt-out healthcare professionals. However, there are now fewer instructors available to educate new nurses. In rural communities — where nurse shortages are most keenly felt — the problem is even more challenging because university education can be harder to access.
The global nurse and healthcare worker shortage is a complex problem, requiring a multifaceted, solutions-based approach. This is why investment in health education and job creation is more vital than ever before.
Accessible education can alleviate the pressure
One of the causes of the global nurse and healthcare worker shortage lies in the lack of accessible education. If the importance of healthcare education isn't recognized, there will be severe consequences for the health of citizens all over the world.
This is where universities can play a critical role. They have a unique opportunity to train more healthcare professionals through accessible online learning programs. This gives students the ability to study from any location. The complexities of roles in health care also see a necessity for periods of in-person skills training and simulation experiences to adequately prepare students for interacting with people during often vulnerable times of health crisis.
Aside from the flexibility of studying online, students can potentially save money on any travel costs they might incur to attend classes that are conducted on campus. There are also fewer restrictions on when classes are held, and you can schedule your study time as suits you best. The flexibility online study gives allows you to take care of other obligations, like family and your regular employment. A larger economic impact of online study is the savings for students in the relocation to a new town or city.
There's no shortage of potential students who want to join the healthcare profession. In 2020, spaces in nursing courses were so limited that US schools had to decline more than 80,000 applicants. In Ontario, Canada, there was a 72% increase in applications for nursing programs from 2021 to 2022.
The numbers show that making education more accessible presents a real opportunity for universities. The online education model may be a significant factor in solving the pressing healthcare workforce shortages.
​​"A nurse who wants to upskill in mental health, for example, might not have the time because they're working long hours in the hospital. And they can't go to a university campus to do another four hours of study," says Vivienne Mak, director of Health & Clinical Programs for Keypath Education.

"Our aim is to provide more access to healthcare education while ensuring the quality is still there. This involves working with our university partners to understand the key challenges they face."
By extending opportunities for enrollment beyond the campus, universities can deliver high-quality education to more healthcare students and professionals, which will help to improve the lives of patients worldwide.
The future of clinical and field placements
Traditionally, healthcare degrees and programs have been on-campus only because of the need for physical presence in practical components and lab situations. The practical nature of healthcare education and training was thought to have made it impossible to move them into an online format.
However, that is no longer the case.
Nursing, as well as other healthcare occupations, can now be taught online via a hybrid education model. The theoretical course components leverage dynamic content presentation and interactives to facilitate learning in an online classroom through a combination of synchronous and asynchronous activities. Additionally, for many health professional degree programs, immersive on-campus experiences are utilized to provide further essential learning. This includes necessary hands-on training, competency checking, collaboration, and simulation experiences that are essential for professional knowledge development.
Then, for clinical or field placements, Keypath can help universities to build their network outside their local geography, which helps universities provide students with the practical aspect of the course. Often universities don't have this capacity because it is outside of their location and can take a lot of human resources to achieve.
"Keypath recognizes the need for qualified healthcare professionals, particularly in rural communities, where the education opportunities are limited but where the need is greater than in urban areas," says Colleen Sanders, VP of Healthcare at Keypath Education.

"Keeping students in their communities while they're learning enables them to gain the practical experience they need to complete their degree and obtain licensure. It also increases the likelihood they remain in that community after graduation to work as licensed healthcare professionals."
Online or hybrid education models like this aren't a case of just putting lecture notes online. By partnering the faculty's areas of expertise with an online course provider's insights, the courses are built to support the best student experience while preserving the integrity of the university's education offering.  Once they're live, however, their impact is profound. Suddenly the university can now move beyond its geographical constraints when it comes to its nursing and healthcare education offerings. The impact of their faculty is amplified, and the university's reach expanded. They're now an active participant in alleviating the global healthcare worker shortage.
Online university healthcare programs are best managed in collaboration with the right online provider, and this facilitates practical learning by:
offering students opportunities to do clinical placements in their local communities so they can continue working while completing course requirements

enabling experienced workers to upskill or re-skill in flexible learning environments with quality institutions where, say, working nurses are able to transform into clinical leaders and advanced practitioners

leveraging simulation technologies to help students get hands-on experience in conjunction with real-life clinical or field settings

using the most sound educational pedagogy for online learning
Tomorrow won't wait
Colleen says healthcare workers are the lifeblood of the health system, and they deserve the best education and training possible.
By providing accessible, quality health professional education, universities can help address the healthcare worker shortages and ensure quality care is available to patients worldwide.
As a leading global EdTech company, Keypath works in collaboration with innovative US, Canadian, UK, and Asia-Pacific universities to develop, design, and deliver successful career-relevant online and hybrid programs. Many successful healthcare programs have been delivered via this education model.
With operations across 6 countries and over 38 university partners, it's a global leader in online healthcare education.
Transform healthcare education today with Keypath. We're ready to empower your university to provide the best academic content online.