Meet a Keypather: Chelsea Niehaus
How long have you been at Keypath, and what is your role?
I've been working at Keypath for close to four years, and I am a Student Success Advisor
What does a typical day look like for someone in your role?
I work with students after they've started their first week of classes. I'll reach out to them throughout the program, check in on them, and make sure classes are going well. My role is to get them engaged and keep them motivated in their classes.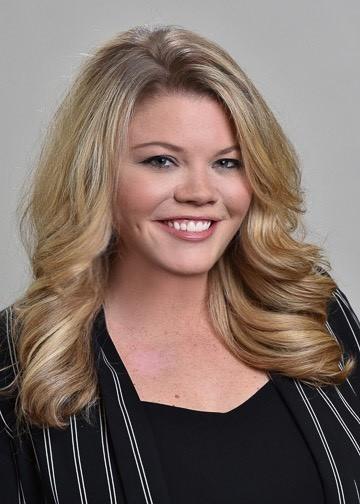 We see ourselves as both a guidance counselor, if they need to talk or vent, and a middleman or advocate. We're there to point them in the right direction. If they need to get in touch with placement services, we're going to put them in touch. If they need financial aid, we'll try and get them those resources. If they're having problems connecting with professors, we'll help them. And we give them general time management and study resources, too.
We try to provide anything that is going to help them succeed in their program. All of us are passionate about seeing these students graduate: we know that they're living busy lives – they're working, and they have families – and so we want to try and help them to be as successful as possible!
What is your background?
I have a master's degree in communication, and I was teaching while I was doing my master's. That helps a lot because I can put myself in the shoes of the professor and the student. I also worked in sales for a while, so I have customer service experience and I know how to really listen to the student and provide the best solution for them.
I've only been on the Student Success Team for about four months. Before that, I was an Enrollment Advisor for three years, and I decided to make the switch to Student Success because I enjoyed those tough conversations with students and helping them stay in the program. When those conversations come up – when they say I don't know if I can do it and I'm thinking about dropping out – I like helping them talk through it and building their self-esteem back up.
With my colleagues, it's mainly higher education experience. I think that's the best thing about Student Success: we all have experience of working in higher education and being a student. That really helps all of us to come together and provide the best service for the student.
How would you describe the culture of your team?
The culture of my team, honestly, is fun! It's really supportive. We have a team of six now, so it's grown a little bit. The job is fast-paced, and what's nice is that we are always keeping each other motivated. It's not your traditional workplace: the culture is huge at Keypath.
I think people stay for the people. When you're on this team and you're having a tough day, you can say I need a quick pick-me-up or can someone talk for a minute. Everyone comes together to lift each other up. The culture is let's do this together – you're not working on your own.
What is the most important skill someone in your job needs?
The ability to understand the student is huge. We work with students who have no experience with online education and students that have only taken online classes, opposed to an entire degree program. It is our job to meet the student where they are at and provide the best solution. We are constantly adapting to our student's communication styles to ensure they are successful in the program and graduate! We must understand who the student is, and what their needs are, to best provide for them.
How has Keypath aided your professional development or growth as a person?
You can come into Keypath in one role and there are so many opportunities. I came in thinking that I was only qualified for one role, and then I started exploring and talking to other people. If you say you're interested in another role, your managers are going to open those doors and connect you with people. This is such a collaborative environment. If you're curious, they want you to learn and they want you to ask questions.
That's what is so wonderful about growth at Keypath. They get to know you on a personal basis, and they learn about your long-term goals, whether at Keypath or elsewhere, and they want to help you be the best person you can be through your professional growth. I admire that because they've really helped me with my confidence at work, and outside of work, by trusting me with so much.
How does your role help our students succeed?
We are their biggest cheerleaders. It's nice when students have someone they can call or email or text and say: "I did really well, and I know you're going to be proud of me!" And it's so important that they have someone they can share the highs and the lows with. We have students that call us when they've had stressful days, are crying, and lost motivation to study but it is our role to remind students why they started their program and why the work they'll be doing once they graduate is so important. Students do not always receive that encouragement from others in their personal lives.
What's your favorite thing about working at Keypath?
There's so much. I've had so many opportunities. It's a tie between the people and the opportunity to get involved and really make a difference. I'm part of the Diversity and Inclusion Club, a community leader of the Global Collaboration Club and a member of the Social team at Keypath. This involvement gives me so much meaning in my role and I feel like I'm really making a difference, not only in Keypath but also by sharing what I'm learning from my co-workers with my friends and family. I love being a part of those clubs. I'm growing as a person and I'm helping Keypath grow, too.
What would you tell someone who is considering a role at Keypath?
Keypath is fun, challenging, and rewarding. We are so motivated because Keypath rewards us, whether that's by offering a flexible schedule, mental health days, or time off at Christmas. The flexibility keeps us all motivated and decreases work stress. Also, our managers are very approachable. If something comes up at the last minute, they are so understanding and they're always thinking of new initiatives to keep us engaged in our work. They're always telling us to go take a walk or drink some water. I think that's so important to share. We celebrate everybody at Keypath.
If you're interested in learning more about Life at Keypath and want to join our team, check out our open roles here.