Keypath Education Partners with Holy Family University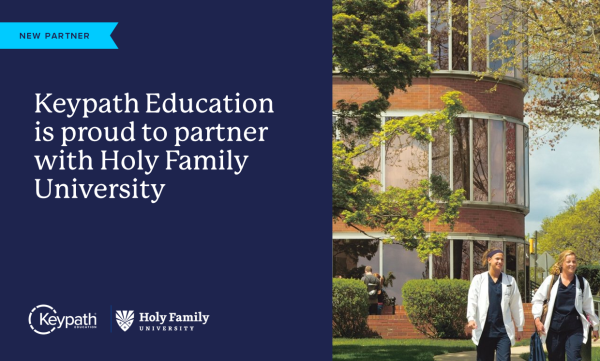 Holy Family University partners with Keypath Education to offer a Distance Hybrid Second-Degree Bachelor of Science Nursing program, expanding its on-campus degree to reach working learners outside of its Philadelphia and Newton campuses
PHILADELPHIA and CHICAGO (June 16, 2022) – Holy Family University and Keypath Education announce the future launch of a Distance Hybrid Second-Degree Bachelor of Science Nursing (BSN) program, commonly known as an Accelerated Bachelor of Science Nursing (ABSN), designed to increase the reach and mission of Holy Family University to more students who desire to serve their communities in the healthcare field.
The Distance Hybrid Second-Degree BSN is an undergraduate degree and will be offered predominately online with a campus residency as well as in-person clinical placements in the student's home community. This hybrid degree program expands on Holy Family's on-campus degree program and was created to reach an even wider and more diverse future student cohort across Indiana, Iowa, Kansas, Kentucky, Maine, Mississippi, New Mexico, and Vermont, in addition to Holy Family's home state of Pennsylvania, creating more accessible learning opportunities for students to upskill and create an impact in the communities where they live. The first cohort of students will begin class in January 2023.
"At Holy Family University, we are committed to transforming the lives of students through innovative and cutting-edge nursing education that develops nurse professionals who are holistically trained to be critical thinkers, collaborators, and professionals focused on patient-centered care," said Anne M. Prisco, Ph.D., President of Holy Family University. "Our Distance Hybrid Second-Degree Bachelor of Science Nursing program will extend the reach of our high-quality on-campus degree program and prepare all graduates to provide competent and compassionate nursing care to individuals, families, and communities in our evolving health care system."
"We are continuing to see a growing need for registered nurses across the country, particularly in rural and remote communities," said Steve Fireng, Global CEO at Keypath Education. "Colleges and Universities like Holy Family University are leading the way in addressing this shortage by delivering innovative distance learning options to meet aspiring nurses where they are, offering flexibility through an online format. By working with Keypath, Holy Family University can extend its on-campus degree into a first-class online learning experience and support its remote students wishing to complete degrees that require clinical placements."
Universities across the globe are partnering with Keypath Education to design and deliver high-quality, career-relevant, and industry-aligned degrees built for working learners and the future of work, even across traditionally on-campus degrees with required clinical or field experiences. Leveraging KeypathEDGE, Keypath's comprehensive suite of services, Keypath works with university faculty to reimagine in-person degrees into online courses with rural areas, underserved communities, and a global reach in mind. University faculty design and teach the program curriculum, and Keypath provides the program management to support an enhanced online student learning experience, including program marketing, recruitment, instructional and course design, clinical placement, and faculty recruitment services.
###
About Holy Family University:
Holy Family University is a private Catholic institution located in Philadelphia, PA. Founded in 1954, the University's mission is informed by its core values of family, respect, integrity, service and responsibility, learning, and vision. The University embraces diversity and inclusion, ensuring a welcoming and accessible learning community for all. The University is composed of four schools: Arts & Sciences, Business & Professional Studies, Education, and Nursing & Health Sciences. Nestled in the heart of a historic residential neighborhood in the Northeast, the University is just minutes from the excitement of Center City. Holy Family enrolls more than 3,100 students at the undergraduate, graduate, and doctoral levels at its Philadelphia and Newtown campus locations.
Holy Family University is a sponsored ministry of the Sisters of the Holy Family of Nazareth.
About Keypath Education:
Founded in 2014, Keypath Education is a global, market-leading EdTech company in the online program management (OPM) market. In collaboration with its 38 university partners, Keypath delivers career-relevant, technology-enabled online higher education programs to students to prepare them for the future of work.
The suite of services Keypath provides to its university partners includes designing, developing, launching, marketing, and managing online programs. Keypath also undertakes market research and provides student recruitment, support, and placement services. The services Keypath provides are underpinned by KeypathEDGE, its integrated technology, and data platform.
Keypath has over 700 employees with partners and operations in the United States, Canada, the UK, Australia, and Malaysia.
For more information contact:
Ashley McGuire, Senior Communications Manager
Keypath Education
ashley.mcguire@keypathedu.com
Christopher McKittrick, Communications Manager
Holy Family University
cmckittrick@holyfamily.edu