ASX ANNOUNCEMENT - 2 JUNE, 2021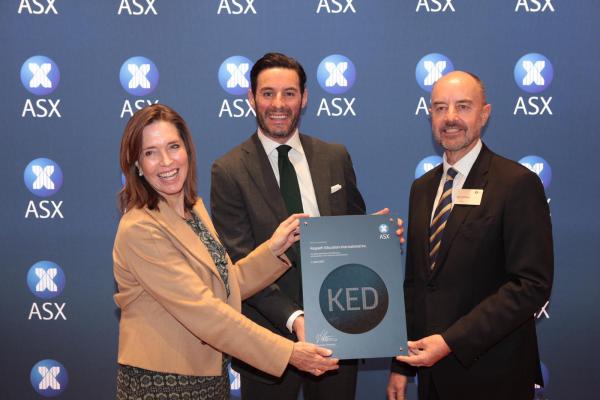 KEYPATH EDUCATION COMPLETES INITIAL PUBLIC OFFERING AND COMMENCED TRADING ON ASX
Chicago, IL and Melbourne, Aus., Keypath Education International, Inc. (Keypath), a leading global education technology provider, commenced trading on the Australian Securities Exchange (ASX) today under the ASX ticker KED. The listing follows the successful completion of its initial public offering (IPO), which raised A$212.1 million of new capital through the issuance of 57.2 million Chess Depositary Interests (CDIs). 
The IPO was completed via an offering of CDIs over shares of common stock in Keypath (with each CDI representing one share of common stock in Keypath), at an IPO price of A$3.71 per CDI.
Keypath's Board Chair, Diana Eilert, said, "On behalf of the entire Keypath Board of Directors, I would like to congratulate Steve, his executive leadership team and all of our Keypath employees on this wonderful milestone. The Board would also like to thank its long-standing security holders, including investment funds managed by Sterling Partners, for their continued support, and the Board extends its warmest welcome to our new investors."
Keypath's Founder and Global CEO, Steve Fireng, noted that "Keypath is an industry leader in delivering online programs in partnership with some of the world's leading universities. Over the past seven years, we have grown to be one of the largest edtech companies in the online programs space globally. Business momentum into the FY21 year-end continues to be strong, with Keypath in an excellent position to begin life as a listed company. The successful completion of our IPO will help drive our growth in existing markets and our expansion into new markets. We are particularly excited about the growth opportunities within healthcare disciplines and South-East Asia."
"Universities choose to partner with Keypath because we combine global experience with market insights drawn from our proprietary data and technology platform, KeypathEDGE. We have a demonstrated ability to design and grow quality, student-centered programs," Mr. Fireng added.
Growth strategy and proceeds from IPO
Keypath has experienced strong growth over recent years. Total revenue was US$55.4 million in FY20 (ended June 30, 2020) and is forecast to increase to US$116.4 million in FY22 (ending June 30, 2022). 
Proceeds from the IPO retained by Keypath will support it in the delivery of its growth strategies which includes growing enrolments and improving retention in current programs, expanding program offerings with its existing university partners, adding new university partners, expanding into new markets, and potential strategic mergers and acquisitions.
Macquarie Capital Australia acted as sole lead manager and underwriter. Clayton Utz acted as Keypath's Australian legal advisor, and Katten Muchin Rosenman LLP acted as Keypath's US legal advisor.
Ends.
###
Investor Contacts
Victoria Geddes
Investor Relations
FIRST Advisers
vgeddes@firstadvisers.com.au
+61 421 084 914
Media Contacts
Ashley McGuire
Senior Corporate Communications Manager
Keypath Education
ashley.mcguire@keypathedu.com
Giles Rafferty
Media and Corporate Communication Adviser
FIRST Advisers
grafferty@firstadviser.com.au
+61 481 467 903