Setting Students Up for Success With Co-Ops and the Job Search
As more employers look for evidence of students' skills, more programs are looking to help students start documenting evidence of skills and experience early on in their college career.
One of these programs is the College of Engineering and Science (CES) at the University of Detroit Mercy (UDM).
Starting in first-year experience courses, students are introduced to Seelio as a tool to help them capture their in- and out-of-class projects throughout the program. Christine Hillebrand, a sophomore, shares why she's glad she was prompted to think about building a portfolio early:
"Seelio allows me to tell my story," said Hillebrand in a UDM press release. "I am able to show projects created in CATIA [Computer Aided Three-dimensional Interactive Application], a 3D computer-aided design (CAD) program."
She plans to use her profile to showcase not only her engineering projects but also her design skills.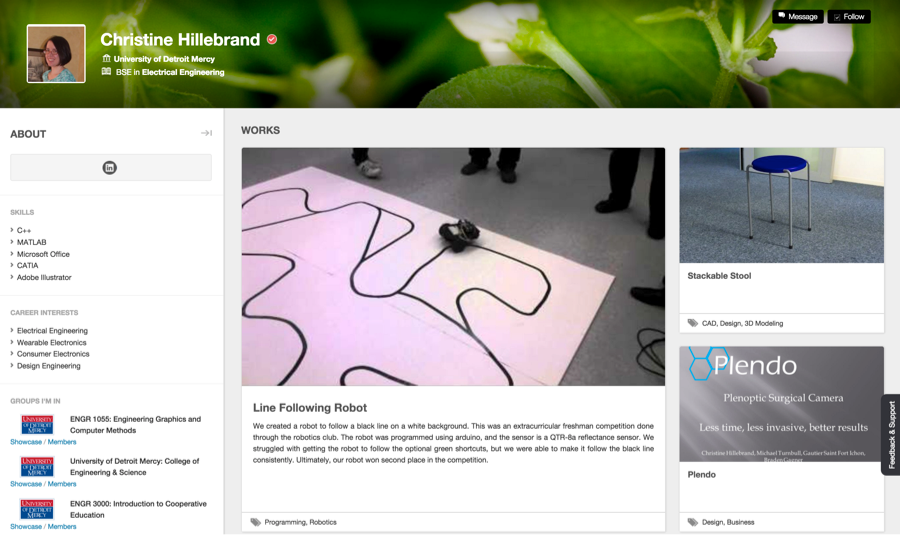 "Seelio provides our students with an advantage when seeking co-ops or full-time employment," said Dr. Nassif Rayess, assistant dean for the UDM College of Engineering and Science, in the news release. "These online portfolios allow employers to see what our students are capable of producing."
The College of Engineering and Science is also utilizing portfolios to draw attention to the accomplishments of its talented students on its department website.
Teaching students the theories of engineering, as well as how to professionally communicate their skills and experience, creates well-rounded learners who are most in-demand in the 21st-century workplace.  
If you are interested in using portfolios to strengthen students' career development, take a look at some of our other resources: