Student Spotlight: Symphony Webb Uses Seelio to Showcase Her Skills to Employers
Communications students work on a variety of different projects during their educational journey. Some of these projects call for many types of audio, written and visual artifacts as well as particular skill sets. Seelio is an ideal solution for these students. Symphony Webb, a communications major at Prairie View A&M University, uses her Seelio profile to document her work in and outside of the classroom, giving future employers a glimpse into her abilities. 
Aside from all of the great work she is doing in the classroom, Symphony is also very active in her community. She started her own blog and YouTube channel to offer fashion and makeup advice. With Seelio, Symphony was easily able to document all of these experiences and accomplishments in one place.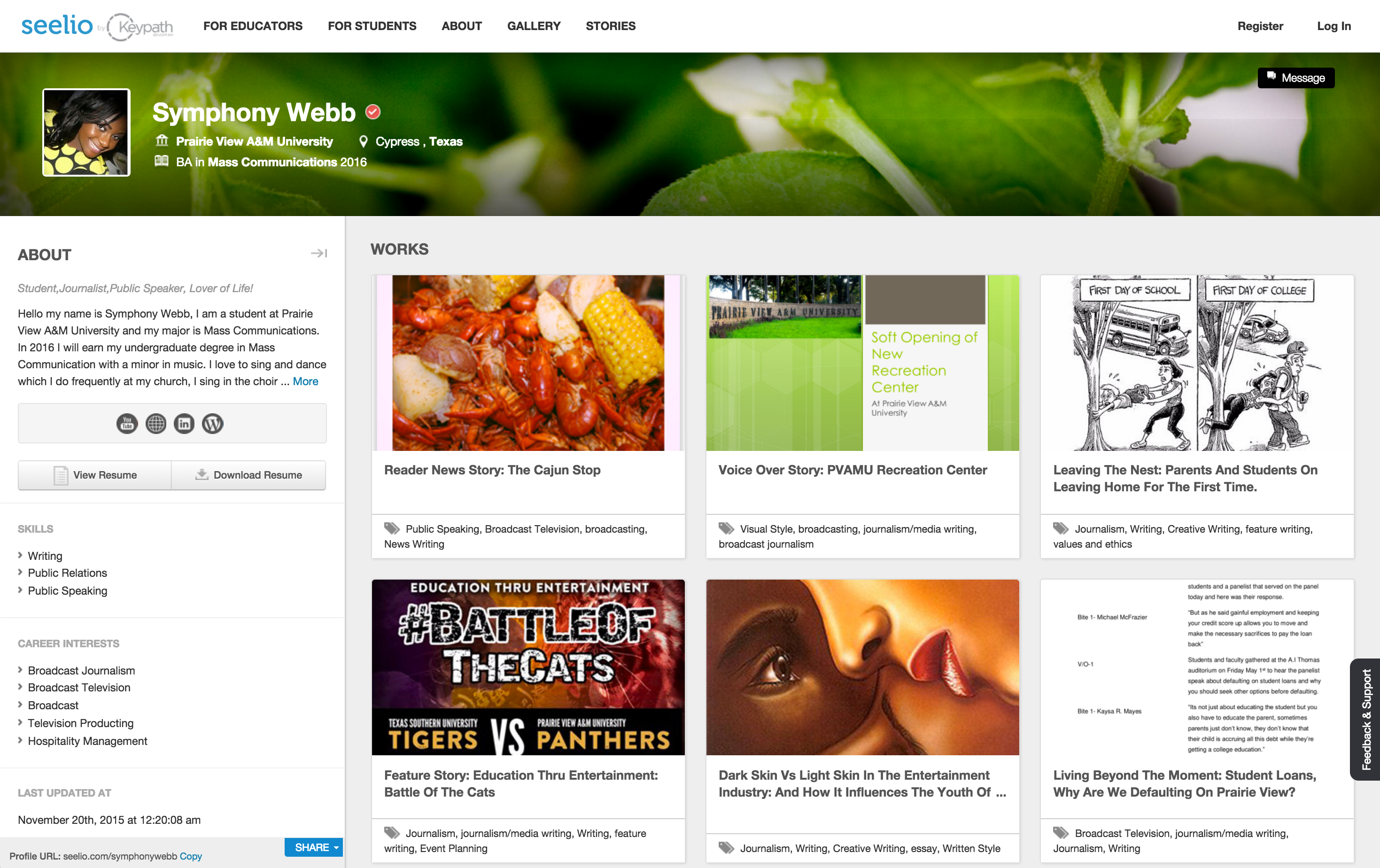 We had a chance to talk to Symphony about her experience and advice for other students. 
Q: How did you learn about Seelio? What has been your experience thus far?
A: I learned about Seelio from two of my professors at school; they required all of their students to upload work and create an online portfolio. At first, I didn't understand the purpose of Seelio and thought it was just extra work, but after seeing the benefits Seelio had to offer, I began to use it more and more. Now I find myself uploading all of my work to Seelio even though those classes are over. Seelio has not only made it easier for me to showcase my experiences all in one place, it has also encouraged me to make sure that my work has a professional look to it.
Q: How have you chosen which projects and experiences to showcase?
A: The best way for me to choose which projects go on my profile is to have one of my colleagues or professors critique it. I actually enjoy receiving constructive criticism because it allows me to challenge and improve myself.
Q: We see that you expect to graduate next year. What steps are you taking in your final months to prepare for your entrance into the workplace?
A: I plan to gain work experience through internships and making sure that my resume is up-to-date. I will also continue to perfect my writing skills by updating my blog site more often, practicing my own camera presence, and continuing to work on my demo reel. I hope to land my first job in broadcast journalism, ideally in entertainment news.
Q: What advice do you have for other students who are getting started with Seelio?
A: Take Seelio seriously! You never know who is looking at your profile. Upload your best work and take pride in what you do.
For the full interview with Symphony, visit blog.seelio.com.