It's hard to know where marketing begins and ends in our always-on, multi-screen, media-rich culture. For us, it never ends.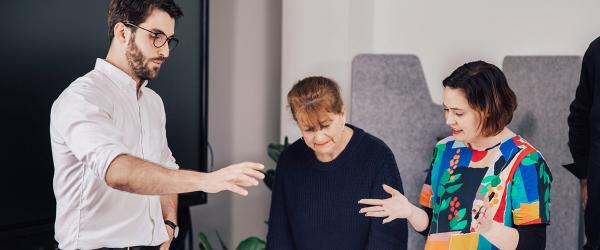 We have a constant and data-driven focus on the prospective student, and what their motivations and needs are across their entire customer journey. A continuous feedback loop from first touch through to graduation feeds our understanding of the ideal student, so we continue to refine and optimize our marketing efforts.  
In-house expertise
Our team of marketing specialists and full-stack marketers builds on more than two decades of higher education marketing experience and brings a global perspective in recruiting working adults and non-traditional students. Working alongside your internal marketing teams, we blend strategic insight, creative execution, channel integration, and continual optimization for long-term enrollment growth. 
Data-informed approach
As with everything we do, our marketing strategies begin with data and are guided by the Program BLUEPRINT™. In collaboration with your marketing teams, we create a series of ideal student personas that guide our strategy for compelling messaging, content and media mix. From the moment our campaigns hit the market, we test all marketing activities with proprietary models, measured against industry benchmarks, and visualized in real-time reporting. 
Creative content
Our creative team is agile, scalable, and capable of tackling everything from TV and long-form editorial to social media marketing and email nurturing campaigns. We get to know your brand identity well, and it's our mission to share your university's story in creative and compelling ways in channels where we know our prospective students are most likely to respond. Working hand-in-hand with the SEO team, our team creates strategies that see us win in keyword rankings and optimize exposure for your university.
Marketing integration
Keypath's approach integrates several higher education marketing disciplines with the singular goal of guiding prospective students from awareness to enrolment. Whether it's search engine marketing, paid search, or traditional media, each channel complements another, creating a frictionless experience for prospective students to take the next step to become a student with your university. 
International capabilities
Global demand for higher education is growing into a multi-billion dollar opportunity for universities to diversify their recruitment efforts. We evaluate your program, target markets, market demand, and more to develop a customized international marketing strategy. Our experience working with universities in the top four higher education destinations to enroll students from 45 countries gives us a unique perspective in extending your university's reach. Our network of international strategic partners continues to grow, allowing us to stay ahead of trends in the market.