We believe education has the power to change lives. Working collaboratively with subject experts, our instructional design team puts the student at the center of the experience, never compromising on academic quality.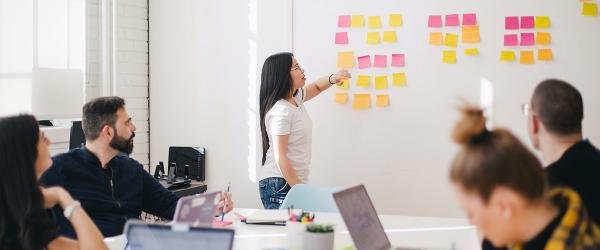 Partnering with academics to meet the future of work
We know that our work thrives when we have open and honest conversations and look for solutions together. Using the Keypath Program BLUEPRINT™ as a launching point, we focus on program-level learning goals and use these to guide the development of each course journey. Beginning at the end, outcomes and assessments guide week-by-week activity design. We collaborate with academics and apply market-led and tech-focused solutions to develop innovative activities that help educate professionals to transform their world.
Data-driven improvement
Technology is changing the way education is delivered and experienced. We are committed to a superb student experience and our use of data allows us to respond quickly. By course and program, we analyse student data on engagement and performance. Success Advisors collect student feedback and share these data with our Learning Design team to improve future iterations of the course and to promote overall program success.
Quality and accessibility
Throughout development and during course finalisation, our specialist content quality team ensures that the quality of course content upholds the standards of your University and meets accessibility guidelines. Learning designers develop innovative solutions including our Keypath Quality Standards Framework which is used for internal quality review. Keypath also relies on standard industry-leading quality standards, such as Quality Matters and the Online Learning Consortium's Quality Scorecard.
Flexible and agile
We respond quickly and adapt to challenges with openness and curiosity. Our learning design team and support staff are versed in several LMS, CMS, CRM and other technology solutions for delivering online learning experience at scale. We're expert listeners who understand you have unique needs and concerns, and we work with you to find solutions.
Want to find out more about how we design and develop exceptional programs for our students?